Finding the best folding treadmill for a small space is a difficult task. There are so many choices available, in this article we are going to showcase five treadmills that are, in our opinion, the best on the market for what they do.
Owning a treadmill is a fantastic way to improve your fitness, help you lose weight, and de-stress after a hard day. They allow you to walk, run, skip, hop, and sprint (yes, you can skip and hop on treadmills) all from the comfort of your own home. No gym membership required! No running through a howling gale while rain lashes against your face. No puddles, no stray branches from trees, no groups of teenagers that you have to dodge around midway through your run.
But owning a treadmill does have one drawback, they tend to take up a lot of space. This is not a problem if you live alone in a five bedroomed house, or if you can move people out of the servant's quarters (kidding). But, for those of you who live in a property where space is paramount a treadmill may seem like a luxury you cannot justify.
Foldable treadmills have been around for years, they are a great compromise as they take up much less space than a regular treadmill. But they are often seen as lightweight, and many treadmill users avoid purchasing them out of fear that the treadmill will fall apart or not run very fast. This may be true of some foldable treadmills, but there are many fantastic machines out there. In this article we will attempt to identify five of the best folding treadmills for a small space.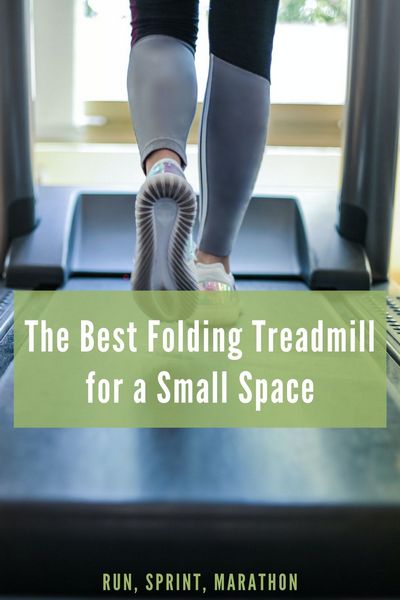 Five Best Folding Treadmills
We have included a comparison table of the best folding treadmill for a small space so that you can find out how each treadmill ranks for the following criteria;
Durability – How long will this treadmill last, and how safe will you feel while running on it
Folded Size – As this is a review of folding treadmills, we included a section on how little space they take up when folded
Programs – Does this treadmill contain any pre-built programs that you can follow?
Price – What is the value for money of this product? Is it fairly priced? Is it a complete bargain?
Quality – What is the overall quality of the treadmill?
The most expensive treadmill on our list, this offering from Ancheer is the most durable and the highest quality product out of the five. The Ancheer treadmill offers an incline between 0 and 15 degrees and has 12 pre-set programs. This means that as a regular treadmill it more than holds its own. There is 3.25 horsepower provided and it allows speeds of up to 9 miles per hour. The belt is surprisingly wide for a folding treadmill and it uses a multi-layer running belt which will really help with shock absorption.
This treadmill actually has the best folding mechanism of all the treadmills on this list, using a hydraulic folding system. However, it scores low on our list as when folded it takes up the most space. The base is 35 inches long when folded, but because the treadmill is folded at an angle it actually takes even more space than that.
This is still a treadmill that will fit in most small spaces but compared to the other four it is quite large in size. It is the best performing of the five and will still take up much less space than a regular treadmill, but if you do purchase please ensure that you have enough space once it is folded.
After the high price of the Ancheer T900, we're moving on to Merax which is a much more reasonable price. Usually, you would think that this would significantly affect quality, but on the whole it stands up for itself quite well. The horsepower is not as high at 1.5 rather than 3.25, and the max speed is lower (7.5mph rather than 9mph). But this is still a quality product.
If you are a good runner with a lot of experience, then the Merax may be a little lightweight for you compared to the Ancheer T900. But most people would not notice the difference (except when it came to pay). There are 12 pre-set programs and the LCD display is pretty decent.
One benefit that Merax has over the Ancheer T900 is that it takes up slightly less space when folded. Unlike the 35 inches that Ancheer takes up, Merax only takes up 29.5 inches at the base. While it also folds at an angle, it still takes up less space, making it a better choice for people with smaller spaces.
The Merax electric folding treadmill is a really good choice if you are looking for a low-priced, high-quality treadmill that will fold away nicely when necessary. There will be treadmills that fold into smaller sizes on this list, and the Ancheer T900 is a better-quality product, but Merax is a really good compromise and a great treadmill in its own right.
The Gymax folding electrical, portable treadmill is by a distance the best treadmill on this list when it comes to folding up and saving space. Taking up just 9 inches at the base and folding vertically rather than diagonally meaning that the total surface area taken up by this treadmill is unmatched. The Gymax is a similar price to the Merax, but it is not quite as good.
The whole treadmill is a little on the lightweight side, and only has 1 horsepower rather than the 1.5 that Merax offers (and the 3.25 that Ancheer has). The top speed of the Gymax is a little lower than the Merax too, with just 6.5mph rather than 7.5mph.
But don't let these comparisons put you off, the Gymax is still a high-quality treadmill at a reasonable price. It is perfect for the first-time user with very little space to put a treadmill.
Another excellent folding treadmill, this time from Juane. If you're looking for a beautifully designed and powerful treadmill, then this is not the right choice for you. However, it is a decent bit of kit with none of the bells and whistles, it also takes up very little space when folded.
It is a little more powerful than the Gymax treadmill, offering 1.5 horsepower rather than the 1 horsepower that Gymax offers. However, this treadmill has the slowest top speed of any of the treadmills we have reviewed so far at just 6mph.
This Juane folding treadmill is perfect for new runners with little space, it is surprisingly durable considering the price and weight, but don't expect to be sprinting hard on it. This would be a great choice for people looking to walk, jog, or go for medium paced runs.
The final treadmill that we're looking at is probably the best of the lot (based on the unique criteria we are looking at). The Ancheer T900 is the most durable and highest in quality, but this treadmill is cheaper and folds better than it while also being quite close in terms of durability and power.
The Goplus treadmill folds well, is quite powerful (using a 2.0 horsepower motor) and a very good running belt. It may not be quite as space saving as the Gymax or Juane treadmills, taking up 25.5 inches rather than the 9 or 9.5 inches that the other two manage. But it is a better treadmill than either of them, and it is very fairly priced. It has a top speed of 6.5mph which is better than the Juane model and comparable to the Gymax.
This is a really good treadmill, it balances a good price, high quality, and it is still an excellent space saver. A great treadmill at a fair price.
Final Thoughts
We've shown you five folding treadmills that we believe represent a diverse set of needs. There are cheaper models for those on a budget, more expensive ones for people who want a more powerful and durable model, and we have treadmills that are in the middle. Out of the five, the Ancheer T900 is our favorite in terms of quality and durability. But it is more expensive than the others, and it takes up a lot more space.
The GYMAX is the smallest treadmill in terms of storage space taken up, but it is a little on the light side when it comes to power. The Goplus treadmill is our favorite overall because it offers something for everyone at a decent price. Whichever treadmill you pick, we hope you enjoy it.