Finding the best treadmill brands for home use is a smart move, once you have found a brand that you like and trust you can stick with them for life. When searching online it can be very difficult to judge treadmills based on the description offered and a stock photo, but if you know that the brand is well respected you can rest assured that you are making the right decision. In this article we will be identifying five of the best treadmill brands for home use.
You may have noticed that the treadmills in most health clubs and the treadmills available for home use are quite different. Both in price and often in quality, with home treadmills often looking a lot less durable compared to gym quality treadmills. There are two reasons for that) Health clubs and gyms have a much larger budget than most people) home treadmills are used a lot less often, so require less durability.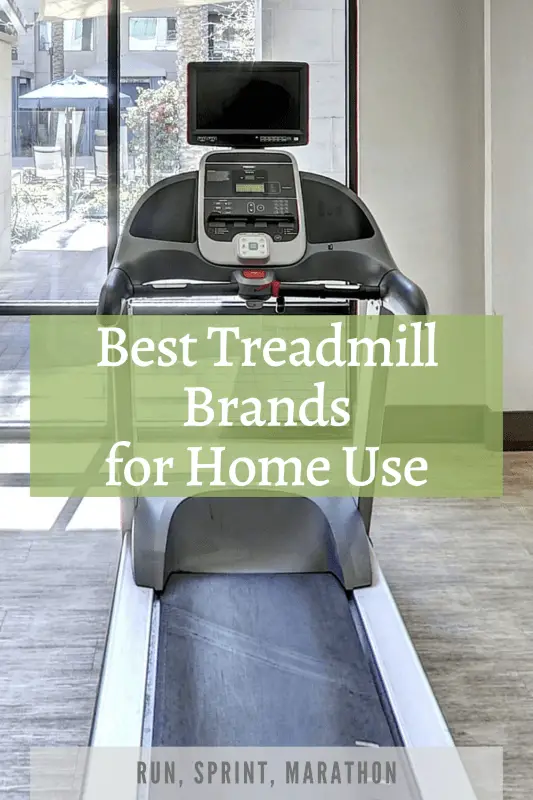 Treadmill Brand #1 Bowflex
Bowflex
is a well-known brand that is most commonly associated with their adjustable dumbbell range. But the company is so much more than that. They sell high-end fitness equipment, including cable stations, home gyms, workout benches, elliptical machines, and you guessed it … treadmills.
Now, there range isn't particularly big. In fact, as far as we can tell they only have two treadmills out on the market. But they are absolutely gorgeous treadmills that continues the Bowflex tradition of innovation and quality.
Their first treadmill is the Bowflex BXT116, it has a seriously powerful motor (3.75 CHP) offers an incline of up to 15 degrees and has a 20 by 60-inch belt. It can also be folded up, but the innovative approach to shock absorption really sets it apart from the competition, the Comfort Tech Deck really softens your landing and absorbs impact while you are running. This is the sort of quality you would only expect to find in a gym.
The second treadmill in their range is their premium product. The Bowflex BXT216 is their best version, providing even more power (4 CHP) a wider belt, and a slightly improved display. These treadmills would grace any house and are well worthy of this list of the best treadmill brands for home use.
Treadmill Brand #2 Precor
Precor
are a brand that is usually associated with gym-based products, and many gyms across the United States and Europe use Precor for their resistance machines and cardio equipment. But Precor also has a seriously impressive range of home gym equipment.
Precor treadmills are usually on the higher end of the market, due to their high-quality parts, and stellar support. They offer 5-year warranties as well as lifetime support for the frame and welds.
Precor may not offer the most aesthetically pleasing treadmills, and they are often devoid of the bells and whistles that other treadmills offer, but if you are looking for a heavy-duty, high-quality treadmill that can withstand all that you can throw at it, then the Precor brand is for you.
The TRM 211 Energy Series treadmill for example, allows you to run at a max speed of 12mph! It also offers a 15-degree incline, and really good impact absorption. The only thing that may put people off is the price of Precor treadmills, they are excellent quality, will last for years, and will survive the rigors of daily high-intensity workouts, this often comes at a high price, but they really are value for money.
Treadmill Brand #3 Sole
Sole
is a company known for treadmills, and they are often used by Hotel chains. What's great about Sole is their innovative approach. For example, they were one of the first companies to sell treadmill desks at a reasonable price for home use.
But their regular treadmills are excellent quality too. Check out the Sole F85 treadmill. It offers a powerful motor (4.0 continuous horse power) and a top speed of 12mph. It also allows you to fold it up after use. There are also little touches such as USB ports, Bluetooth connectivity, and an integrated tablet holder.
Aesthetically, Sole's treadmills are gorgeous, almost as nice looking as the Bowflex models! These treadmills will look great in your home, which is obviously not as important as how well they function, but considering how big a treadmill is, we believe that this is an underrated benefit.
Treadmill Brand #4 Proform
Proform
are probably best known for their out-of-this-world exercise bikes and super-sleek rowing machines. But their treadmills are truly excellent. What's great about Proform is that they have a large range of prices, while the others tend to be quite expensive (Bowflex) or very expensive (Precor), Proform has high-priced and low-priced treadmills for sale.
On one end of the scale you have the Proform 305 CST, a great budget treadmill with a respectable amount of power (2.0 CHP) and a decent top speed of 10mph. On the other end of the scale you have the Pro 900 which offers much more power (4.25 CHP), 40 workout programs, a top speed of 12mph and both incline and decline features.
Proform are high-quality, reliable, and they have an excellent range of affordable to luxury treadmills that will suit almost every budget.
Treadmill Brand #5 NordicTrack
Up until now we have not placed any of our treadmills in a particular order. By having Bowflex at number one, we are not implying that it is somehow worse than Precor at number two. But we have definitely saved the best brand until last. NordicTrack
is undoubtedly number one when it comes to the best treadmill brands for home use.
Any list of the best treadmills available for home will have at least one (and more often than not multiple) NordicTrack treadmills in it. The company leads the way in almost every area. NordicTrack are a brand you can trust, like Coca Cola or Apple. Like Proform, they offer a huge variety of treadmills that can suit almost any budget.
One thing that really sets NordicTrack apart from the competition is their warranty. They offer a 25-year warranty on the motor! A lifetime warranty on the frame, and a 1-year warranty on parts and labor. Even their cheaper treadmills come with excellent cushioning, a decent motor, and a top speed of 10mph.
Then you get to the higher end of their range and you're suddenly dealing with some of the highest rated treadmills around. Their NordicTrack Commercial 2950 comes with a 22-inch touchscreen, offers a 4.25 CHP motor, dual auto-breeze workout fans, and both incline (15%) and decline (3%) features. This is a serious bit of kit!
The attention to detail in all of their products is second to none, their aftercare is superb, and many of their products are innovative. NordicTrack are a cut above most of the competition and are deservedly in this list.
NordicTrack are amazing and are well known for high-quality products. Bowflex are well-known for their adjustable dumbbells, but their treadmill offerings are seriously underrated, and companies like Proform, Precor, and Sole are excellent, trustworthy companies that deliver high quality treadmills for a great price.
Of course, the most important thing is to ensure that you USE this treadmill safely and consistently. There's no use making a major investment like this and then using your treadmill to hang up your washing and collect dust! Used correctly, a quality treadmill can help you to build muscle, burn fat, and improve your cardiovascular health, all without having to leave the house.
A treadmill from any of these five companies will get you great results and you'll enjoy using them (well, as much as it is possible to enjoy running on a treadmill!). Check them out today.
Final Thoughts
For most people, purchasing a treadmill is a big deal. They are one of the most expensive pieces of fitness equipment that you can get and picking the wrong brand can be a nightmare. Hopefully, this article has helped you to make a decision by naming what in our opinion are the best treadmill brands for home use.