Purchasing a treadmill is the first step to leading a fitter, healthier life. Of course, when purchasing for your home you will need to consider many factors. The size of the treadmill is important, as is its durability – there's no point going as cheap as possible if it will fall apart within six weeks! In this article we will take a look at eight treadmills in search of the best treadmill for home.
Considering the many different needs of people searching for the best treadmill for home use we will provide a range of different treadmills that we think will work. We'll have a few treadmills that suit a more modest budget, a couple of treadmills that are very compact and can be folded away between runs, and a couple of treadmills that are just objectively the best treadmills out there regardless of price. That way any customer looking for the perfect treadmill for their home will be satisfied.
Here is how we will judge each treadmill. Remember, depending on your circumstance you may only care about a few of these factors. If your house is large and there is a lot of space, then noise and size may not be very important to you. If you have an unlimited budget, then price may not be that important either. If you are a beginner or are unlikely to ever hit the top speed, then power may not be too important.
Noise – How loud is the treadmill while you run on it? If you live in an apartment of have small children, you may be more interested in keeping quiet than other factors.
Price – Not a list of which is the cheapest, this is a measure of the value for money of the treadmill. If a treadmill is very expensive but is incredibly durable, then it may be better value for money than a cheaper treadmill that doesn't last half as long.
Power – What is the top speed of the treadmill? How powerful is the motor? Can the motor run smoothly while you sprint?
Durability – How long will the treadmill last? How resilient will it be? Is it likely to fall apart while you run on it?
Comfort – This is a measure of the shock absorption, and the ability of the treadmill to reduce injury risk through technology.
Size – Does the treadmill fold up? Can it be easily stored? If space isn't an issue then you can just ignore this section, but for most people space IS an important factor.
Total – Marks out of 30.
Best Treadmill for Home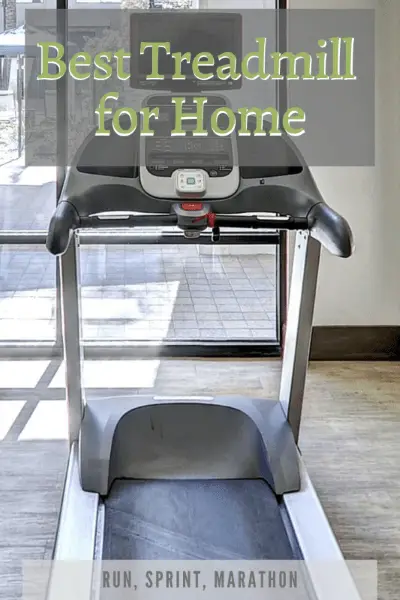 On balance, treadmills are not the most attractive pieces of cardio equipment, but the Precor TRM 835 is without a doubt one beautiful treadmill. The electric blue touches on the ends of the safety arms, the light and dark grey colouring, it all comes together beautifully.
However, most people don't care about what a treadmill looks like, they care about how it performs. Luckily, the Precor TRM 835 has no issues in that department. It uses a 4 HP motor, which is as good as you'll find anywhere. Meaning that your top speed sprints will not tax the treadmill at all.
The motor is so powerful you could run this treadmill for 12 hours per day and not have a worry (until you checked your electricity bill). The top speed of 16mph is almost unheard of in treadmills that can be bought for home. There are 25 pre-set workouts to follow, and a lifetime warranty on the frame and welds. With a ten year warranty on parts.
The running deck is superb. Using the Ground Effects Impact Control System to reduce joint stress and fatigue, effectively reducing your injury risk. This is not a cheap treadmill, but when you consider its durability and effectiveness you'll see how amazing the value for money is.
Considering how low the price is, the MaxKare folding treadmill is surprisingly effective as a home treadmill for runners. It is very quiet; this is due to a special design that reduces vibration from the machine to the floor which really reduces noise. The MaxKare folding treadmill also (perhaps unsurprisingly) folds, meaning that it does not take up much space when not in use.
So far, this treadmill has scored very highly for noise reduction, value for money, and space saving. But how does it perform as a treadmill? The motor is not particularly powerful, it is just 2.5 HP and the treadmill only has a top speed of 8.5mph. This makes it fine for newer runners, or runners who prefer longer distance yet slower paced runs. If you are looking for a treadmill where you can sprint a lot, then this is not the treadmill for you.
The rubber tread belt will reduce damage to your knees by increasing shock absorption, but it is not as great a system as some of the treadmills on this list. Remember though, that due to the lower top speed there is less requirement for shock absorption.
The MaxKare folding treadmill comes with numerous features, including a large LCD display, and 15 pre-set programs for you to follow while running. For the money they are charging you couldn't really ask for more, it will provide a good running experience, is low on noise, will last for a long time thanks to a well-constructed frame, it also folds up into a small size making it ideal for home use.
The ANCHEER 2 in 1 folding treadmill is really a compromise between the previous two treadmills that we have reviewed. It can fold up into a very small size just like the Barwing Walking Pad, but it allows you to run in the same way that the MaxKare folding treadmill does. With a top speed of just 7.5mph the ANCHEER 2 in 1 folding treadmill trails behind the MaxKare treadmill which has a top speed of 8.5mph, and the motor is a little less powerful (2.25 CHP rather than 2.5).
But it is much smaller in size and its foldability is definitely better. The treadmill has two settings, a walking setting where the treadmill is completely flat (making it perfect for using under a walking desk) and a running setting. This allows you to pull up a handrail so that the machine resembles a normal treadmill and allows you to increase the speed from walking to running pace.
Considering how minimalist this treadmill is, it is quite amazing how many features have been built in. The treadmill contains an advanced built-in Bluetooth speaker which utilizes surround sound technology for crystal clear audio during your run. There is also a multi-function LCD display and a remote so that you don't have to bend down and change settings. There is also a phone bracket and a safety key.
The deck is created to absorb as much impact as possible, reducing the potential stress on your joints. The running belt is made up of seven layers, one that will insulate against sound, one that increases compression, one that increases shock absorption, you also have wear-resistant layers, and layers that can support your foot while running.
The ProForm PFT160916 505 CST has a name that doesn't exactly roll of the tongue! However, whatever it loses in awkward name choices, it makes up for with a high-quality machine that is well-priced, and as durable as you can hope for.
This treadmill has one of the best warranties of any treadmill we have come across. It has a lifetime warranty for the frame, a 25-year warranty for the motor, and a 1-year parts and labor warranty. You only have warranties as generous as these when you are fully confident in your product.
The motor itself isn't particularly special. At 2.5 CHP it will do a job, but it may struggle when hitting the top speed of 10mph. The treadmill does offer a 10% incline though, which can make up for a lack of sprinting by burning more calories and working your cardiovascular system hard.
The treadmill also folds up into a nice small size, making it great for smaller houses and apartments. If you are a new runner, or you have no intention of sprinting, then this treadmill from ProForm could really suit your needs. A great price too!
Now we come to the first of two NordicTrack treadmills, the reason for two NordicTrack treadmills? NordicTrack are probably the best home treadmill company around, and we absolutely love their products. The NordicTrack T 9.5 S treadmill is part of their T series, a slightly cheaper treadmill than their usual offerings, but seriously impressive all the same.
The NordicTrack T 9.5 S has a seriously good motor, offering 3.6 CHP, which is very high for a "budget" treadmill and allows a top speed of 12mph. The treadmill also has an incline capacity of 12% allowing you to simulate running up hills and really burn those calories.
As with all NordicTrack treadmills the durability is superb, expect this treadmill to last you for years – which explains the 10-year warranty for the frame, the 2-year parts warranty, and the 1-year labor warranty.
Thanks to the powerful motor, this treadmill is going to be surprisingly quiet during a run, and it is foldable meaning that it won't take up too much space when not in use. This really is an all-round gem from NordicTrack.
Matrix fitness have a stellar reputation for making well-made treadmills and other cardio equipment. They aren't the cheapest out there, but when it comes to treadmills you really don't want cheap. You want durable, effective, and long-lasting. The Matrix Fitness T50 treadmill is all of that rolled into one.
What we particularly like about this treadmill is the interval training system. The T50 uses a built in Sprint 8 high intensity interval training system to allow you the ideal HIIT workout. Something that is usually so difficult to do on a treadmill.
The treadmill is very durable, and the lifetime frame and motor warranty really demonstrates just how durable it is. A little hint, if a company is offering a lifetime motor warranty, then that company is confident in their treadmill.
The LCD display is not as impressive as some of the displays out there, but it does its job well and you'll get all the relevant exercise stats and information that you'll need. This treadmill really suits people who just want a short, sharp sprint, to burn as many calories as possible. Not that you can't also use it for long low intensity workouts. But it definitely suits HIIT. Overall, this is a fantastic treadmill for serious runners.
This next treadmill is a bit out of left field, not many people have heard of Horizon Fitness. But after reviewing this treadmill, we're confident that they deserve a place on this list. This is a medium-priced treadmill, which is great value for money.
It has a 2.75 CHP motor, and a top speed of 10mph. It also offers an incline setting, which will really help you burn more calories during a run. The treadmill is foldable, meaning that you won't have to worry about it taking up your entire living room. It is also very well made, and very durable.
It has some nice features too, such as a rapid charge USB port, which allows you to charge your phone or tablet while you run. It also provides a holder for your tablet and phone – meaning that you can watch TV, play music, or use it for tracking distance etc. The treadmill also offers Bluetooth connectivity, so you won't need a load of wires.
The deck is well cushioned allowing for high levels of shock absorption, which will help save your joints during long runs. Overall this is a really well-designed treadmill offered at a reasonable price.
The final treadmill on our list is another NordicTrack model, and it is also the most expensive on this list. But don't let the high price tag fool you, this treadmill is fantastic value for money. Utilizing a 3.75 CHP motor, the NordicTrack Commercial 1750 treadmill offers both a 3% decline setting and a 15% incline setting. It also has a top speed of 12mph.
There is a 10-inch smart HD touchscreen, as well as Bluetooth capabilities. The treadmill also has dual fans to help keep you cool during a tough run. The treadmill uses Runner's Flex cushioning, one of the best shock absorption systems out there, which will help reduce the risk of joint pain or injury.
What's more, this treadmill also folds away after use! So, you have a highly durable, powerful, and comfortable treadmill that is also able to be folded away between runs. Seriously good!
Final Thoughts
Picking our favorite treadmill out of this list was always going to be difficult. Do you go for the best overall treadmill even though it is also the most expensive? Or do you go for the best compromise between quality and price? We've decided to mention our favorite treadmill as well as our favorite cost-effective treadmill, that way everyone is happy.
Funnily enough, both treadmills come from the NordicTrack range. Our favorite cost-effective treadmill is their NordicTrack T 9.5 S treadmill, while our favorite overall treadmill is the NordicTrack Commercial 1750.
The reason for this is that it offers the most power, has the best shock absorption, has both incline and decline settings, and is relatively quiet. It is also foldable, so doesn't even take up much space. If you have the money, then the NordicTrack Commercial 1750 is without a doubt the best treadmill on this list. Luckily, you can pick any of the eight treadmills and receive a product that you will be more than happy with.