There are many different treadmills out there, aimed at a multitude of different people. There are people who want to walk more, new runners who are dipping their toe into running, people who are looking for a treadmill that will not take up too much space, people looking for budget treadmills, and sometimes there are elite runners. In this article we will be looking for the best treadmill for elite runners.
This means that we will be concentrating on powerful motors, excellent shock absorption, durability, incline/decline functions, and effective software for elite running. These will take precedence over space-saving capabilities or budgetary constraints. Though we will mention at least one treadmill that is affordable as well as great for running.

Best Treadmill for Elite Runners
In this section we will identify five of the best treadmills for elite runners, we will look at their value for money, durability, how powerful they are, and how comfortable they are to run on (shock absorption). Remember, the main thrust of this review is to identify the best treadmills for running on, rather than other concerns.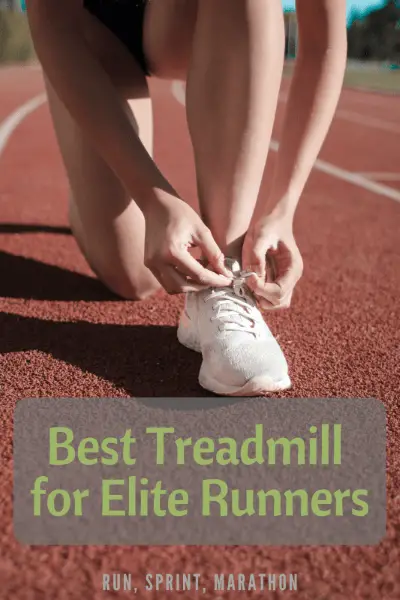 The NordicTrack commercial 2950 treadmill is one of the best treadmills on the market right now. It is made of highly durable materials, is incredibly powerful, has amazing shock absorption, and is filled with little additions that will improve your run no end. It can even be folded up between uses, making it a great space-saving treadmill.
The treadmill uses a 4.25 CHP motor and has a top speed of 12mph, the treadmill also has both an incline (15%) and decline (-3%) feature allowing you to simulate running up and down difficult terrain without having to step outside your front door.
The NordicTrack Commercial 2950 utilizes Runners Flex (TM) Cushioning, which is really good technology that is designed to lessen the impact on your joints by absorbing the shock created when you run hard on a treadmill. This will ensure that your joints remain injury-free even after years of high-intensity running.
The durability of this treadmill is very high too, which means that the treadmill should last you for much longer than a cheaper model would. This increases the value for money, and though it may seem like a large upfront investment, long-term you're going to be saving money.
Sole are a really good treadmill manufacturer, and their F85 Folding treadmill is no exception. It is powerful, durable, and offers a decent incline range. It may also be the most durable treadmill on this list. There are other Sole treadmills that may even be a little better for elite runners. Check out the Sole TT8 and Sole TT9 treadmills, but we thought that the F85 was a decent price, and offered almost as good a running experience, making it a better overall choice for elite runners.
The motor for this treadmill is 4.0 CHP, which will allow for a smooth ride and will not struggle when you set your treadmill to the top speed of 12mph. There are also 15 incline levels that you can use, though sadly there is no decline setting. When not in use, the Sole F85 treadmill can be folded up and stored away. The treadmill has a max user capacity of 400lbs, this is around 100-150lbs more than most treadmills allow, which gives you an idea about how durable it is.
Shock absorption is decent, and you should be able to avoid any joint pain even when running flat out for long periods of time. Overall, this is a great treadmill for elite runners. Particularly when considering the price. If your budget allows then do check out the Sole TT8 and TT9 treadmills as they are excellent too.
Another NordicTrack treadmill reaches this list, and this should come as no surprise for anyone who knows anything about NordicTrack. They are considered by many to be the best treadmill manufacturer out there. The NordicTrack T series could be viewed as their economy range, but don't let that label fool you, when you take a closer look at the NordicTrack T 9.5 S treadmill you can see why we've included it here.
Even at a lower price, the power is still excellent, the T 9.5 S offers a 3.6 CHP motor as well as the ability to increase the incline. This will help you to run at top speeds of 12mph, and it will also allow you to increase the intensity during sprints.
The NordicTrack T 9.5 S also offers amazing shock absorption through the use of FlexSelect cushioning, patented cushioning that softens the impact of your feet and reduces the strain on your joints as you run. This will be hugely beneficial for the longer-distance elite runners out there. This treadmill can also be folded easily, which is great if you don't have a lot of space.
This treadmill may seem slightly lightweight when compared to the others on this list, it has a less powered motor, and therefore will struggle at the top speeds. However, given the price this treadmill is going to be fantastic for elite runners who are on a budget, and will serve their owners well.
Like the NordicTrack Commercial Series 2950, the ProForm PRO-9000 treadmill has gone big when it comes to power, offering a 4.25 CHP motor and a top speed of 12mph. It also offers a -3% decline setting as well as incline settings up to 15%. The PRO-9000 also offers a heart rate monitor with wireless chest strap. The belt uses PROSHOX cushioning which will massively reduce the risk of joint pain or injury during a run, and the belt is both long and wide (22 inches by 60 inches) which gives you ample space while you run.
The treadmill is amazingly durable and offers a lifetime frame and motor warranty, as well as a 5-year parts warranty, and a 2-year labor warranty. This reflects the confidence that ProForm has in their treadmill's durability.
Like most of the treadmills on this list, the ProForm PRO-9000 treadmill folds away easily, making it a great treadmill for people who need a bit more space in their house. This treadmill is powerful, durable, and clever in its design. A must for any elite runner.
Best Treadmill for Elite Runners #5: Bowflex BXT216
This is such a good treadmill at a very reasonable price. The Bowflex BXT216 uses a 4.0 CHP motor, and has a motorized incline that goes up to 15%. Sadly, it does not have a decline setting. The belt uses Comfort Tech design to reduce joint pain by increasing shock absorption as your foot lands.
It can be easily folded away after use, is powerful, and is also very durable. This is a very well-made treadmill. It has been designed to sync with the free app RunSocial, which has 19 locations and 27 routes for you to follow. You can view them on your tablet, which the treadmill has a holder for, and this will transport you to exotic running locations and make your indoor runs at least as exciting, if not more exciting than a real outdoor run.
Final Thoughts
Home treadmills have become so good these days that there is no reason why an elite runner cannot have as good a workout in the comfort of their living room as they would in a health club or gym. The five treadmills that we have identified should all suit the specific needs of elite runners. If we had to pick our favorite it would be a toss up between the ProForm PRO-9000 treadmill and the NordicTrack Commercial Series 2950, with the ProForm model perhaps just shading it.
The two treadmills stand out for their powerful motors, incline and decline settings, well-made design, and durability. They will last for decades and each can definitely lay claim to be the best treadmill for elite runners. Which one you prefer is really up to you.
If you are an elite runner on a budget, then the Bowflex BXT216 or NordicTrack T series treadmills are excellent compromises. They may not be quite as powerful, but they are still much more powerful than the majority of treadmills out there. They are also made by reputable fitness equipment companies with a lot of experience in the industry.