One of the most frustrating things about having bad joints is that the best cure (weight loss and strengthening the joints) can lead to a worsening of the condition. As we age, our joints can become weaker and more prone to injury. Physical exercise is an excellent way to relieve this, however, poor technique or bad running surfaces can actually worsen the condition. Because of this, many treadmills have been designed to reduce joint pain. They do this through shock absorption. In this article we will be looking at five products in an effort to find the best treadmill for bad joints.
The treadmills that we are going to review have all been picked out based on their ability to reduce the risk of injury or pain in the joints. This means that shock absorption will be of paramount importance, we will also review the treadmills on their value for money, durability, power, before giving a total score out of 20.
Best Treadmill for Bad Joints
Below are five excellent treadmills, each chosen for their shock absorption abilities (among other things). There is a real mix of price ranges involved, as not everyone has the same requirements. There are great treadmills for people with a small budget, and top of the line treadmills for people who don't mind spending extra for a higher quality treadmill.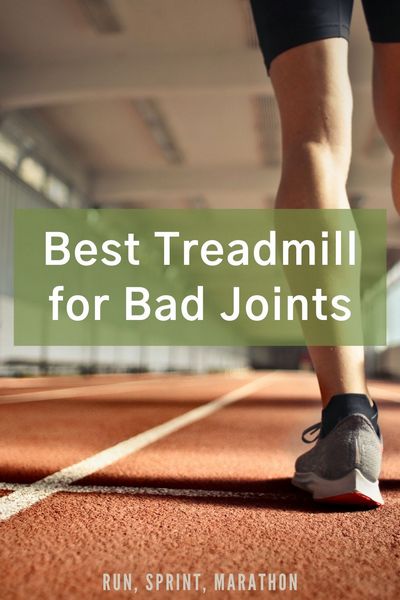 The Bowflex BXT216 is such a great treadmill, it is fantastic value for money and offers a powerful motor, excellent durability, and puts in the extra effort to ensure that it is low-impact and great for joint health. When it comes to price, the Bowflex BXT216 is a mid-range treadmill. Not as cheap as some on this list but considering how well it is designed and made it is such great value for money.
Bowflex as a company cut its teeth in fitness equipment when it brought out the Bowflex adjustable dumbbells. These dumbbells stood out from a crowded market by being cleverly designed and well made. Their treadmill range is no different. The treadmill comes with a 4 CHP motor which will allow you to sprint at top speed with no ill-effects seen in performance.
The treadmill allows up to 15% incline and can be folded up in between use. But the shock absorption is where it really stands out. Bowflex use Comfort Tech, the gold standard for impact absorption. The support that it gives your joints with each step is incredible. This treadmill is excellent in its own right, but as a treadmill for bad joints it is truly exceptional.
The ProForm Performance 600i treadmill is an interesting one, it seems to have been designed with bad joints in mind. In terms of power it really does not stand out much, offering just a 2.5 CHP motor and a top speed of 10mph. This is quite low in power compared to the Bowflex BXT216. If you are purchasing a treadmill for sprinting, then this is probably not the one for you.
But there are a lot of great aspects to this treadmill, ones that will appeal to someone with bad joints who is looking to improve their situation. The treadmill not only offers an incline setting, but also a decline! Travelling on a slight incline or decline is great for improving joint health, and really helps to recreate running outside – but in a safer environment.
ProForm have opted to use ProSHOX cushioning, one of the top cushioning technologies out there. This will provide a soft landing and will really protect and support your joints while you run/walk. Another benefit of this treadmill is how well it is made. Considering the price, this treadmill should last you a long time and should be able to survive pretty much anything you throw at it.
Sole fitness sells great treadmills, they always provide excellent power, excellent durability, and put a lot of effort into shock absorption. The Sole Fitness TT8 is near the top of their price range, and it is probably the best treadmill they sell.
The first thing that stands out is the 4.0 CHP motor that they offer, as well as the incline and decline settings. They offer a 15% incline as well as a -6% decline setting. This is great for strengthening joints and recreating outdoor running. The treadmill is also amazingly durable, most treadmills have a max user capacity of 300lbs, but the Sole Fitness TT8 treadmill has a max user capacity of 400lbs. This is just example of the durability of this treadmill.
Sole uses Cushion Flex technology to reduce the impact during a run, protecting and supporting your joints as well as increasing shock absorption. This treadmill will last for years, will allow you to sprint as fast as you can, and it will also protect and strengthen your joints, allowing you to lose weight and build strength.
If you've got the budget for it, this is hands down one of the best treadmills you could ask for. Excellent support for bad joints. The NordicTrack 2950 treadmill uses Runners Flex Cushioning, one of the most supportive and shock absorbing systems around. Your knees, hips, and other joints will benefit from the cushioning while your body benefits from one of the best cardiovascular machines money can buy.
The treadmill has an incredibly powerful motor, 4.25 CHP, which allows it to effortlessly handle even the most high impact workouts without making a noise. The incline controls are easy to use, and you will barely notice the movement as you walk or run.
The added features really help to elevate this treadmill above the competition. A 22 inch immersive HD touchscreen will help transport you to any location you want to simulate running in. This is thanks to the free 1 year membership for iFit. If you want to run or walk across a dessert or up a mountain then you can. Talk about an interactive experience!
The treadmill is also fully foldable, which is surprising considering the size. The only real downsides to this treadmill is the max user capacity, just 300lbs when similar treadmills offer 400lbs. It's also quite an investment. Other than that though, it truly is one of the best treadmills available. It is superior for protecting/strengthening your joints.
The final treadmill on this list is probably the most comfortable treadmill you could find. Precor have a huge reputation for quality products, and their TRM 445 Precision Series Treadmill is a perfect example of that. While it is not the most powerful of treadmills (offering a 3 CHP motor), a lot of attention has been placed on getting shock absorption just right.
The treadmill belt has been designed to provide impact absorption for vertical as well as horizontal impact. Almost every treadmill only concentrates on vertical impact. By concentrating on horizontal impact as well, the TRM 445 Precision series treadmill really stands out from the crowd. Your joints will be better supported on this treadmill than any other, as it will closely support your foot at all points of impact.
The TRM 445 is also incredibly durable, with a 10-year parts and wear warranty, a 3-year console warranty, 1-year labor warranty, and a lifetime frame and welds warranty. Precor are clearly confident that their treadmill can withstand anything that life throws at it. Purchase this treadmill and you can confidently expect it to still be performing flawlessly a decade later.
Final Thoughts
Finding the right treadmill for your specific needs is always a challenge, particularly when you have bad joints. But hopefully this list as helped you to decide which treadmill is right for you. We have reviewed treadmills that will fit any budget. In terms of protecting and supporting your joints our personal favorite is the Precor TRM 445 Precision Series treadmill.
However, the best overall treadmill on this list is probably the Bowflex BXT216. It has amazing shock absorption and will protect and support your joints well. But it is also amazing value for money, is very powerful, is very durable, and also looks really cool (yes, we know that this should have no bearing on our score).
Whichever treadmill you go for, we wish you the best of luck in overcoming any joint issues, a treadmill (when chosen well and used correctly) can massively improve joint health.