A Buyers Guide to Selecting the Right Treadmill
Running is a sport enjoyed by millions of enthusiasts around the world. The exhilaration of your body in motion as you pound the road in your stride releases endorphins and feel good hormones. Running can help you beat stress, improve cardiovascular fitness and enhance longevity; all you need to do is slip on your shoes and hit the road.
If you live in a dangerous part of the city or an environment that has a lot of rain, getting out for a run may be a hassle. However, technology has come to your aid, and you can now get your run in using a treadmill. Treadmills are a great way to get your run in at home, without exposing yourself to social dangers and environmental conditions.
However, choosing the right treadmill can be a frustrating and overwhelming experience. With so many models and manufacturers of treadmills to choose from, where do you start? Here is our guide on how to select the right treadmill for your convenience and level of fitness.
Treadmill Size and Workout Space
The first place to start in selecting your ideal treadmill is to measure out your workout space at home to find the perfect fit for your new equipment. Choose an area of your home where you can access the treadmill quickly and ensure that there are at least three feet of clearance behind the treadbelt.
The average treadmill manufactured for home use is around 3' wide and 7′ long. Some models such as stair-climbers can be significantly shorter and more compact. Make sure that you have this space available, including the rear clearance. If you have a small room, then look into a treadmill that you can fold away. Folding treadmills are a compact solution for people living in apartments and studios, just make sure that you take into account the height of the unit when it is folded away in storage.
Treadmills also differ in treadbelt length depending on their use of operation. Treadmills for walking usually have a 50-inch belt length, while runners over six feet tall will need a belt length of 60-inches.
Set Your Budget
Purchasing a treadmill can be expensive. Some models run into the tens of thousands of Dollars for a professional machine that would suit professional use. What training do you want to do on a treadmill? What kind of workouts will you be following?
If you are just trying to get in shape and increase your mobility, then you may benefit from a smaller, walking treadmill. These units are compact because of their short belt length, and they cost a lot less than a full-sized treadmill.
Here is what you can expect to receive for your money when buying a treadmill. We have put together a few price points for you to consider, select the treadmill that offers you the best quality and value for your training goals.
The Cheapies – Under $500
Treadmills that retail for less than $500 are usually not worth considering. Manufacturers build these machines with the average joe in mind. Their components are inferior, the treadbelt is weak and made with sub-standard materials, and they come with minimal features. This lack of quality in manufacturing is because they understand that many new runners will merely use the treadmill a few times before packing it away to gather dust.
For Part-Timers – $500 – $800
There are a few machines that can hold up for walking. The motors are weak, and they will feature manual settings such as a manual incline control and manual braking. These are good treadmills for people that want to go for a walk once or twice a week.
Find a Bargain for $1000
With $1000 to spend on a treadmill, you will be bound to find a bargain on a decent machine. At this price point, you will have to choose between electronic features or durability. We recommend picking the models with fewer electronics and a robust electric motor and sturdy treadbelt.
Getting Serious – $1000 to $2000
If your budget for a treadmill is $2000, you have a much wider selection of quality machines that are durable and come with a host of electronic features. This sort of treadmill will be suitable for both running and walking and should come complete with a variety of electronic features such as a heart-rate monitor and automatic incline control.
Professional Level – $2000 and above
If you are an avid runner and require a treadmill that can help you get an intense run five days a week, then you will need to spend a decent sum of money. A professional level machine that you find on the floor of your local gym can cost anything up to $10,000. An example of a top-class treadmill that is worth the price tag is the Assault Airrunner. The Airrunner is worth every cent of its $5,000 price tag but may be out of reach for the budget of new runners.
10 Treadmill Buying Tips
Not every treadmill is equal regarding performance, cost, and durability. There are a few basics technical specifications and design features that you need to be aware of before you spend your hard-earned money on a treadmill for your home.
#1 All About the Motor
A motor powers the treadbelt of the treadmill. You can consider this motor to be the heart of the machine. An underpowered treadbelt motor will not engage the track and produce slippage, significantly reducing the treadmills operating life. It's critical to select the right motor power for your application and bodyweight.
A treadmills motor power is measured in CPH (Continuous Horse Power) this indicates how much drive the motor produces continuously, instead of just at its operating peak. Home treadmills will use motors that have between 2.25 and 4.25 CHP. Here is a scale you can use to determine your ideal treadmill motor.
Walk: 2.0 CHP or more.
Jog: 2.5 CHP or more.
Run: 3.0 CHP or more.
For those people that weigh more than 200 pounds, add an extra 0.5CHP to your motor output to compensate for the added weight and strain on the motor.
#2 Selecting the Right Track size
The track size is not crucial to walkers, however; those that wish to use their treadmill to run should take note of the track length before making their purchase. Standards for treadmill track length are 55-inches for walking and 58 to 60-inches for running. There are also track lengths that support professional runners or taller runners that have longer strides. Some of these treadmills such as BodyCraft and Landice make tracks up to 63-inches in length. As a standard, most tracks are 20 or 22-inches wide.
#3 The Treadbelt
The treadbelt is the part of the treadmill that experiences the most wear and tear. It's the only part of the machine that comes in contact with your body while it is in motion and it absorbs all of the direct impact energy from your running or walking. Therefore; it is crucial to have a treadbelt that is tough, durable, and resilient.
Good treadbelts feature a four-ply material that enhances the tensile strength of the treadbelt and reduces wear. Cheaper machines will only have a single-ply treadbelt and may need replacing frequently; some manufacturers neglect to mention this on their spec sheet, so make sure you note it before you buy.
The treadbelt is mounted onto rollers that are no less than 2 to 2.5-inches in diameter to allow for smooth operation and reduce the energy needed by the motor to drive the treadbelt. Unless you have purchased a premium machine, such as the Precor TRM 932i Commercial Series Treadmill, you will need to keep your treadbelt lubricated with some silicone lubricant.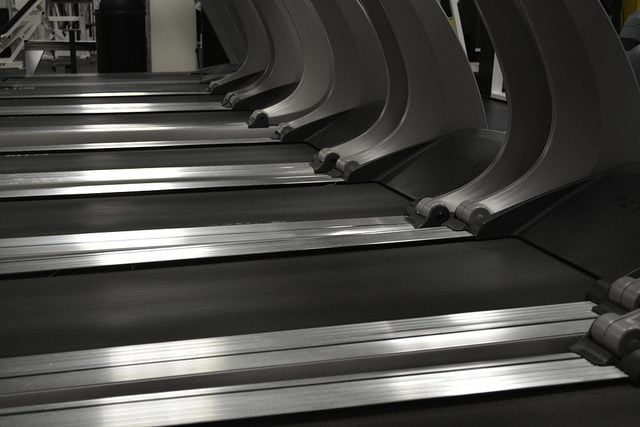 #4 Speed Capability
The majority of part-time runners and recreational runners will be fine with a treadmill that has speeds of up to 10 miles per hour. If you are a professional or advanced runner, then you may benefit from a machine that can handle higher speeds of up to 12 miles per hour, such as the NordicTrack C 990.
#5 Track Cushion
Many runners complain about the force and pressure that the foot-strike produces on joints such as the knees and ankles. Running on a treadmill allows runners to reduce the amount of impact that occurs from the foot-strike. Treadmills feature track padding underneath the treadbelt. This padding helps to absorb the shock on the joints and cushion the force of the foot-strike.
Track cushioning can reduce impact force by as much as forty percent, extending the life of your joints and your treadbelt.
#6 Incline Control
Make your workout more challenging and burn more calories during your workout by using incline control. Expensive treadmills will feature electronic control of the incline, while cheaper machines may require you to set it manually.
#7 Workout Programs
Treadmills in the $1,000 plus range will usually feature advanced electronic components, including a heart-rate monitor and calorie counter. Along with these features, the machine will have a programmable memory and options for preset workout programs. These preset programs are designed to give different workouts by adjusting the incline and speed or the treadmill over a specified distance and period.
#8 Added Extra Features
Some treadmills come with added comfort features such as a water bottle holder, towel rack, and speakers. There are even treadmills that come fitted with high definition television screens that you can use to link to your homes Wi-Fi network. While these bells and whistles may seem more 'nice-to-have,' than essential, they may help you stay motivated to keep training and push through your session to achieve your goals.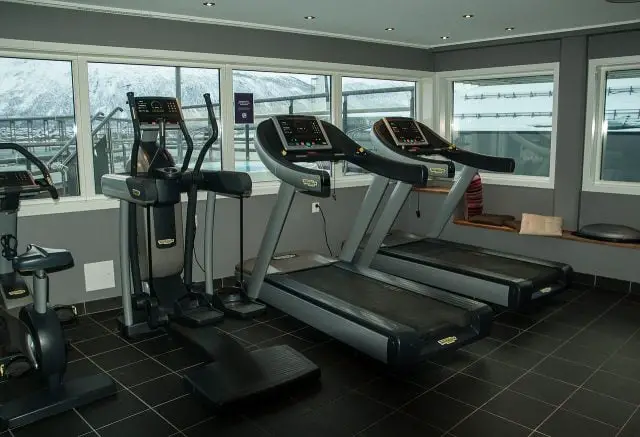 #9 The Warranty
The warranty is possibly the most critical part of your treadmill. Treadmills feature moving parts and electronics that have the potential to create a fault. If you own a treadmill, you will eventually have to deal with some part of it that needs repairing or replacing. When your treadmill motor burns out six-months after purchase, you will be glad the manufacturer's warranty covers the repair.
High-end treadmills come standard with lifetime warranties on all of their parts, except the treadbelt. Machines lower on the price-scale may only feature lifetime warranties on the frame and just five years on the motor. Make sure you have a clear understanding of the warranty terms and conditions before you make your final purchase decision.
#10 Portability and Storage
Do you live in a small apartment where space is at a premium? Then consider buying a folding treadmill. These treadmills are mounted on casters and quickly moved between rooms in the home with ease. Just fold the treadmill out and complete your workout, then fold it up and store it out of the way until your next session. Some treadmills are so compact that they can be folded up and stored away in a closet.
#11 Safety Features
Have you ever seen the hilarious YouTube videos of people falling off the back of a treadmill? Fortunately, this doesn't have to happen to you. Your treadmill should come with an emergency stop tether that halts the belt immediately as soon as the lanyard tether breaks. This feature is a must-have for those that are elderly to help prevent any accidental injury that may occur.
Take it for a Test Run
Before you check-out from your retailer with your brand new treadmill, it's wise to take it for a test run. If you are buying a treadmill online, head down to your local department store and try out the model you are interested in before purchasing it online. Physically testing the treadmills at a store will allow you to get a feel for what to expect from your treadmill.
If you can't find your treadmill at a store, then read through user reviews on independent websites before making your final purchase decision.
Crossing the Finish Line
Once you have taken delivery of your treadmill, all that's left to do is unbox it, set it up in your workout space and get to work! If you are a newbie to training, then be sure to check out our article on the best 30-minute beginner treadmill workout for some fitness tips with your treadmill.