Buying a treadmill is a big decision to make, they are an investment in your health and fitness and can help you live a longer, healthier life. But they also tend to take up a lot of space! If you have a big, beautiful house then size isn't always going to be an issue. However, if you live in a regular sized house or a small apartment then you'll want to find a treadmill that you can fit into it. In this article we will be attempting to find the best small treadmill for home use.
The thing is, you can't just pick up the smallest treadmill around, because there is a good chance that it won't be particularly good. What you want is a small treadmill that is also powerful, great value for money, and durable. You don't want a treadmill that falls apart after six months of use, nor do you want a treadmill that has a top speed of 5mph!
What we will do is analyze five small treadmills, and grade them on criteria such as Price (value for money), Durability (how long will it last?), Comfort (what is the shock absorption like?), Space (how compact is the treadmill and does it fold up?), and Power (top speed and motor).

The Best Small Treadmill for Home Use
In this section we will identify five of the best compact home treadmills and review each of them. We will then pick out our favorite small treadmill.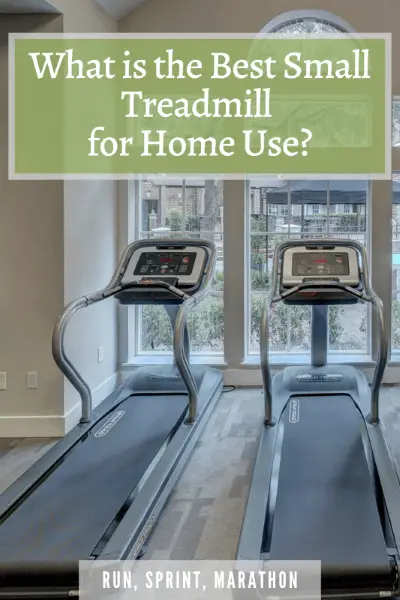 If you are looking for a small treadmill than the ANCHEER 2 in 1 Folding Treadmill is perhaps one of the smallest that you could ever find. It is completely flat with handles that fold right down by its side, taking up almost zero space when not in use. Even when set up for running, the height of the treadmill will barely reach your waist.
You might think that because this treadmill is so small it must be solely designed for walking, but it actually has a decent motor. The motor is 2.25 HP and allows a top speed of 7.45mph. The running belt is surprisingly comfortable with a 40 inch by 16-inch surface. What is quite amazing is the number of added extras this treadmill contains.
It provides an advanced built-in Bluetooth speaker, a phone bracket, and a remote controller. It also provides a multi-function LCD display. All of this in a treadmill that only rises 5 inches off the floor when in flat mode. A great treadmill that takes up almost no space when being used and is very easy to store when not in use.

While not as small as the ANCHEER 2 in 1 folding treadmill, the NordicTrack T Series 9.5 S Treadmill is still a surprisingly small treadmill that can be folded up between uses. This is SUCH a good treadmill though. It folds up into a very small size and is easy to do so, it has a gorgeous 14-inch full color touch display and offers a 3.6 Continuous Horse Power (CHP) motor. The treadmill even has an incline function!
Another great feature of the NordicTrack T Series 9.5 S treadmill is the use of FlexSelect Cushioning. A really effective shock absorbing system that can massively lower the pressure on your joints (particularly your knees).
Good power, a top speed of 12mph, and an incline capacity of 12%. This treadmill is also great value for money. With all of these benefits it really fits in here as one of the top five best small treadmills for home use.

Unlike NordicTrack, MaxKare is not a particularly well-known treadmill manufacturer but the MaxKare folding treadmill is a seriously good option for anyone who is low on space but still wants a high-performing treadmill. This treadmill has a 2.5 HP motor and a top speed of 8.5mph. Its folding ability is very good, and it has transportation wheels for easy maneuverability after use.
The price is very reasonable for a small treadmill, and the belt is particularly well made. Containing five layers which are designed to: reduce noise, be wear-resistant, support your weight and increase shock absorption. The belt is also quite wide for such a small treadmill, with a 17-inch width.
There are also 15 pre-set programs that you can follow as well as a large LCD display. The treadmill also offers three incline settings which is not something that you would expect from such a small and reasonably priced treadmill.

If you are looking for a treadmill that takes up next to no space when not in use then the Goplus 2 in 1 folding treadmill could well be the product for you. For a treadmill as small as this, the 2.25 HP motor is actually pretty decent. Don't expect any prolonged sprints, it has a top speed of 7.45 mph (12km/hour), but if you're looking for a decent walk or jog then this is the treadmill for you.
The Goplus 2 in 1 can also be used with a standing desk (not included), and does allow you to run. The marketing materials for this treadmill talk a lot about how quiet it is, but take this with a pinch of salt. No treadmills are that quiet. If you're walking on it then it should be pretty quiet, but running? It is unlikely to be that quiet.
This treadmill is perfect for small apartments or work offices. It can be easily folded away as it is completely flat when not in use. The running belt is surprisingly good for such a product. It also has Bluetooth function as well as high performance speakers, so you can run with your favourite music or podcast playing.
The size of a treadmill is relative, compared to some on this list the Bowflex BXT116 treadmill is quite large. But compared to the majority of treadmills that are of similar quality this treadmill is remarkably small in size. It is particularly small when folded up. Yes, it does that!
The Bowflex BXT116 treadmill is the slightly less expensive of the two Bowflex treadmills, the BXT216 is a bigger investment, but both are relatively small and compact in size. Either one would be ideal. What makes the Bowflex treadmill stand out is the excellent features. For example, the running deck uses Comfort Tech for its shock absorption, the best comfort technology on the market.
The controls are simple to use, yet well planned out and effective. The treadmill also looks fantastic. With most small treadmills, you expect them to be a little unstable compared to the more expensive products. But the Bowflex is as stable as even the most expensive models. It is so easy to fold away too. It uses gas shock technology for a reliably soft descent when you want to use it.
If you are looking for the smallest treadmill possible, then the Bowflex BXT116 is not the right choice for you. However, if you are looking for a truly remarkable treadmill that also happens to be relatively small then this is the treadmill for you.
Conclusion
While all five treadmills are really good, there can only be one winner. In our opinion, the NordicTrack T Series 9.5 S Treadmill is the best small treadmill for home use. It is the most durable (so will last longer than most treadmills), is good value for money, has a great motor, excellent shock absorption, and it folds away nicely. Truly the best compact treadmill in town.
The Barwing walking pad would have run it close except that it doesn't offer the same power. If you are looking for a treadmill that you only want to walk on then this would definitely be the winner, due to its tiny size and easy storage capabilities.
The ANCHEER 2 in 1 folding treadmill is also a very good choice, as are the other treadmills on offer. Truly, any one of the treadmills on this list will suit your home, it just depends on what it is that you want.