Looking for a pair of new running shoes? Selecting the right pair of shoes makes all the difference in your running. Minimalist shoes are great for those short sprints or runs where you don't need a lot of cushioning, however, they don't offer much support. Maximalist shoes have plenty of cushioning but they can be a bit heavy on a long run. If you are a distance runner that needs a balance of the best qualities of both, then consider choosing a neutral running shoe.
TL:DR – If you just want to see our best neutral running shoes recommendations, click here:
The Anatomy of Your Feet
Your foot type depends on the angle of your knees in relation to your ankles and the soles of your feet. If you are flat footed you will overpronate your feet, causing the ankle to roll to the inside of the foot. Flat footed runners tend to wear the inside of the shoe and the inside corners of the sole of the shoe. Pronated feet are greatly exposed to ankle injuries and lower legs.
If you have high arches, then your feet are supinated and you will notice wear on the outside area of the inner and outer soles of the shoe. Supinated feet require a shoe with a tighter fit and excellent cushioning, to avoid the force of the foot strike transferring to the knee joint.
Neutral feet are the perfect balance between pronation and supination with average arches that transfer the force of the foot strike evenly throughout the foot, ankle, and knee. Neutral footed runners experience fewer injuries as they tend to have the best running gait and form.
Which Type Are You?
Learning your foot type is relatively easy. The simplest method to use is the 'wet paper' method. Lightly wet your feet and stand naturally on a piece of paper. Step off and examine the wetted sheet. If you can see next to no arch, you have high arches. If the paper shows the full arch then you have flat feet and if you see a bit of arch, then you will have neutral feet.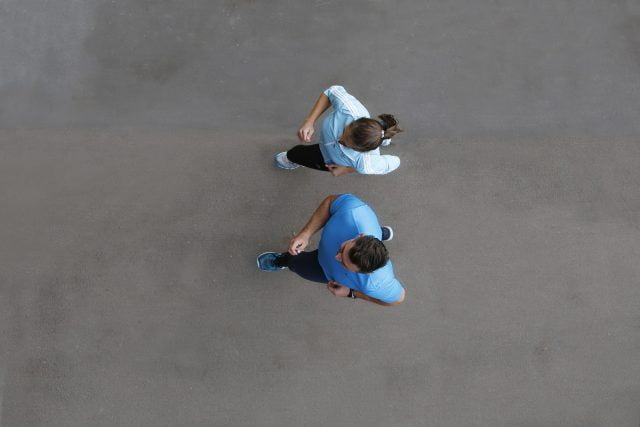 What Are Neutral Running Shoes?
A neutral shoe is a perfect balance between maximalist and minimalist. The shoes will have good support and cushioning, eliminating any pain from foot strike over distances. Neutral shoes are light, allowing the foot to move smoothly in a natural range of motion. Neutral shoes are great for training or competition.
What to Look for In A Perfect Neutral Running Shoe
Every running shoe has its own unique characteristics. When selecting your shoe, the brand name is less important than the functionality and comfort of the shoe. Here are the criteria that have been used to judge and classify the best neutral running shoes 2018 and 2019 have to offer.
Comfort
How does the shoe feel on your foot? Does it provide support for your arch? The width of the toe box is important and the way the shoe feels around the foot is critical. Is the show too narrow and do the sizes run big or small? These are all comfort factors taken into consideration when making an accurate evaluation of the real world performance of the shoe on the track or the trails.
Neutral support
The most common foot shape for runners is a slight over-pronation of the arch. Flat footed and high arched shoes will cause discomfort and pain when persistently used over long distances. If the shoes are not changed for an arch that suits your foot, you can expect to develop injuries such as ankle problems and serious conditions such as plantar fasciitis and peroneal tendonitis.
A neutral shoe should provide you with good support while remaining flexible and allowing the foot to move naturally with a full range of motion.
Stability
Your running shoe needs to provide high levels of stability for your foot. Stability on a run is a critical factor. If your running shoes are too loose, then you expose your feet to injury from the lack of support as the foot strike lands and the toes grip for forwarding momentum.
Shoes that are too loose can force you to use your toes to grip, rather than the sole of the foot, resulting in a condition called hammertoes. Conversely, shoes that are too tight will affect the blood flow to the foot and not allow the muscles and tendons in the foot to stretch resulting in cramping and pain.
Traction
Traction is important for acceleration and stability. The tread on the sole of the shoe should provide even distribution of power as you begin to accelerate and work well in both wet and dry conditions.
Consider the thickness of the traction of your shoe as it will dictate how long you will be able to use the shoe. If there is no more traction, it can and will affect your runs. If you are looking for a long term investment, consider the thickness, durability and material of the tread of the sole.
Breathability
The materials used in the construction of the shoe determine its breathability. Running in a sweaty shoe is uncomfortable and can soften the skin on your feet allowing blisters to develop. Keeping the foot dry and airy is important, especially in hot climates.
Also, wearing the correct socks is important in ensuring breathability. Sometimes the shoe is breathable but the socks are not. Both are crucial to your comfort and prevention of blisters.
Durability
The quality of materials and the construction of the shoe determine its durability. Some shoes are made to last while others may fall apart after only one season of running.
Saving $50 on one pair of shoes may seem like a good deal at first, but it won't be if you will have to repurchase a similar pair in just a few months. Look at reviews from people who ensure durability so that you have an idea of how long your choice of shoes may last given x amount of miles run in x amount of time.
Best Neutral Running Shoes For Women
Pros
Great breathability
Good comfort and arch support
Stretchable materials used in the collar and toe box
Good impact resistance
Durable carbon X10 rubber sole
The Mizuno wave creation 18 is a good all round running shoe for women. It features a lot of support and cushioning to absorb foot strike impact on long runs. The materials in the upper construction of the shoe are breathable, flexible, and durable. The sole of the shoe features grip on the front for toe-offs during running motion and the midfoot area benefits from additional support to the heel through it figure-eight shape.
Cons
Might be too heavy, especially for road running.
Expensive
Not the most aesthetic design
Best Neutral Running Shoes For Women #2: Brooks Glycerin 14
Pros
Lightweight and comfortable
Very durable
Good arch support and well-cushioned midsole
Good traction
Stretchable upper that provides good stability
The Brooks Glycerin 14 is a great shoe for those that need that little bit extra cushioning for comfort. The shoe has good arch support and great flexibility that come from its seamless 3D stretch upper. It features a full-length midsole that absorbs impact from foot strike and the durable sole lasts a long time. The only issue with the shoe is the ventilation which is not very breathable.
Cons
Poor breathability
Expensive
Sizes run small
Pros
Very breathable
Very durable
BRS 1000 carbon rubber sole for great traction
Anatomical flex grooves and side rails
Padded tongue for added comfort
The Nike Air Zoom Vomero 11 is a fantastic neutral running shoe for women that need a high degree of flexion and comfort while maintaining stability and drive through the sole of the shoe. This shoe is our top choice for women that are on the road frequently and need a smooth heel-to-toe transition with good traction. May be a touch on the pricey side but the money is well spent and you will feel the difference in your training.
Cons
May be too narrow
Upper tends to fray
Best Neutral Running Shoes For Men
Best Neutral Running Shoes For Men #1: Saucony Cohesion 10
Pros
Good support
Well ventilated
Secure fit on the midsole and toe box
Sock liner for added comfort
Good for both wet and dry conditions
The Saucony Cohesion 10 shoe is a great all-rounder for a variety of conditions. This is one of the few shoes that does well on both wet and dry surfaces. The sole has great traction and offers good support throughout the midsole, with a secure fit giving great stability. A narrow toe box keeps the toes positioned well and prevents slippage during acceleration.
Cons
May be too tight
Sole lacks flexibility
Best Neutral Running Shoes For Men #2: Asics Gel Nimbus 18
Pros
Gel cushioning system for superior comfort
Heel clutching system for added support
Durasponge technology for extra flexibility
Very breathable
Good midfoot support
Asics have always outdone themselves with the Nimbus range and this 18th model holds true to the legacy. The gel compound in the sole provides great impact absorption and the full-length midsole creates fantastic stability. Very durable sole, however, the inner sole may show signs of premature wear after extended use.
Cons
Narrow toe box
Fit might be too tight for some runners.
Pros
EVA sock liner for added comfort
Very versatile, good for road and trails
Beveled heel for added support
Excellent traction
Full-length midsole provides excellent cushioning
The Nike Air Zoom Elite 8 is, by far, the best neutral running shoe on the market. Nike has really outdone themselves with this shoe, incorporating all of their latest technology into the Air Zoom Elite 8. The shoe offers a high level of comfort and support while remaining so light that you barely feel them on your feet. The price may be steep but you will understand where the money went when you lace up and hit the road.
Cons
Sizes may run small
Toe seam might be irritating
Wrapping Up
Selecting any of these top three choices for men's and women's neutral running shoes will increase performance in your training and competition. Select the best show to match your foot type, taking into consideration toe box width, comfort, and stability as your primary factors for your final decision.